Top 10 Biggest Hip-Hop Sports Fans
We are counting down the 10 biggest, realest, and truest sports fans of all time in Hip-Hop culture. Shouting out an athlete on a record is not a new thing or a rare thing. There's plenty of MC's that go to NBA All Star Weekend and take pictures with NBA and NFL athletes. However, there's only a few that REALLY know the game. Whether it's NBA, NFL, MLB, or boxing, the true sports fans have real knowledge and you can hear it when they talk sports.
#10: Snoop Dogg
At number 10 on our list, we start on the West Coast with Snoop Dogg. Tha Doggfather is a fixture at Lakers games and even hoops a little bit; he'll catch a Dodgers game here and there as well, but where he REALLY makes his mark is football. And he's a die-hard fan of the Pittsburgh Steelers and the USC Trojans. During the Reggie Bush-Matt Leinart era, Snoop would go to USC football practices and USC games. He's been on ESPN First Take on more than one occasion and can talk sports with the best of em.
Snoop Dogg Barz:
"I smoke a lot of weed, sayin f**k a pass like Kobe." (Snoop Dogg on Dr. Dre's "On The Blvd")
"Doggy Diz-ogg you know I like to biz-all, like Kobe and Shaq so take that."
(Snoop Dogg on Jermaine Dupri's "Welcome To Atlanta [Coast To Coast Remix]")
#9: The Game
We go to Compton at number 9 with The Game. You can catch Game at a Lakers game pretty regularly. He'll hit a Dodgers game in the spring time every so often as well. Shouting out Lebron, Shaq, or Kobe in a rhyme is nothing for Game. However, his involvement in the Drew League is absolutely why he belongs on this list. He has hooped with NBA players like Paul George, John Wall, Nick Young, James Harden, DeMar Derozan, etc. His true love of The Game, pun intended, made him an easy choice for this list.
Game Barz:
"The head honcho, staring out the 3rd story window of my Beverly Hills condo. Two long ass heats, I call em Shaq and Alonzo" (The Game – "Church For Thugs")
"Then I had a dream I bricks like Transporter. Changed my life, like Steph Curry in the 4th Quarter."
(The Game – "Made In America")
#8: Jay Z
There's not a lot of Rap lists where Jay-Z is outside of the Top 5, but he comes in at 8 on this list. Jay-Z made the Yankee hat more famous than a Yankee, and he helped start (and end) the throwback jersey era. But his biggest sports moves are BOSS moves. Being a part owner of the Brooklyn Nets and selling his ownership stake to start Roc Nation sports management was a move for the ages. Jigga is the most accomplished MC off the mic and sports plays a major role. He's a frequent visitor to The Garden, Barclay's and Staples Center (usually with Beyoncé) watching NBA games. Jay stays plugged in with sports.
Jay Z Barz:
"Can I Live? I told you '96 that I came to take this sh*t and I did, handle my biz. I scramble like Randall with his, Cunningham but the only thing running is numbers, fam."
(Jay Z – "Heart of the City [Ain't No Love]")
"Shots of patron, now she in the zone, I ain't talkin bout the 2-3. Mami in the zone like the homie 2-3. Jordan or James, makes no difference, we're all ballin the same."

(Jay Z – "Show Me What You Got")
#7: Ice Cube
Ice Cube has his own suite at Staples Center for Lakers games. He goes to Dodgers games from time to time and helped make the White Sox hat famous in the early 90's. But his biggest sports impact is with football. He and NWA helped make Raiders merchandise a staple in the culture. He also produced an ESPN 30 for 30: Straight Outta L.A. which chronicles the Raiders time in Los Angeles in the 80's and early 90's. Ice Cube also stops by ESPN First Take once or twice a year.
Ice Cube Barz:
"It's ironic. I had the booze; she had the chronic. The Lakers beat the Supersonics."
(Ice Cube – "It Was A Good Day")
"To let you tell it, Randy Moss is yo people."

(Ice Cube – "You Ain't Gotta Lie [Ta Kick It]")
#6: Fabolous
First of all, Fabolous is the Jersey King; he is the one that MADE the jersey a landmark in Hip-Hop culture. He doesn't just wear jerseys, but he knows facts about the name on the back of the jersey. Loso is a frequent visitor to Knicks and Nets games. Fab aka Fabolous Sport, also has a crazy sneaker collection and a laundry list of sports punchlines. He's also somewhat of a brand ambassador for his hometown Brooklyn Nets, and he's been on ESPN's First Take multiple times.
Fabolous Barz:
"Stylin', y'all heard about my kick game. I'm on the parquet, you see me at the Knick game."
(Fabolous – "Young'n [Holla Back]")
"Gimme mine, you don't wanna see my stress look. I drive through with the mask, looking like Westbrook."
(Fabolous – "Shook Ones Freestyle")
#5: Joe Budden
Joe Budden??? If you KNOW, then you know. Dude is more knowledgable on sports than a lot of rappers, which is why he's been on ESPN's First Take more than some rappers that are much more popular. Besides the ESPN visits, the realest reason he's on this list is his rhymes. Everybody has a Michael Jordan, Kobe, LeBron rhyme. I don't think any rapper has ever mentioned Tyus Edney or Mahmoud Abdul- Rauf except Joe Budden. If you know those names, you REALLY know basketball. And if you REALLY know basketball and you rap, you make this list. Joe Budden has also conducted interviews with New York Giants receiver, Victor Cruz and is a diehard Knicks fan.
Joe Budden Barz:
"Anybody buying respect me, try and wet me. Y'all dudes will never make it, y'all a Tyus Edney. Stand out like Yao Ming, I'm what's sparking now. Like fall back Shaq, I'm starting now." (Joe Budden on "Pump It Up Remix")

"Withstand the hatred, dudes is falling off, doing all they can to save it. But everybody's run stops, ask Brandon Jacobs." (Joe Budden on "Remember The Titans.")
#4: Lil Wayne
First of all, Lil Wayne has a song called SportsCenter with sports references. He's been on ESPN quite a few times, and he actually goes to a lot of NBA games. He's even written songs dedicated to athletes like his song about Kobe at the height of their careers. Weezy has been dropping creative sports barz for many years and has shouted out athletes ranging from Roger Federer to Baron Davis to Ron Mercer. Weezy knows sports.
Lil Wayne Barz:
"Holla at a playa, I'm sorta like BD. Y'all can't stop my dribble or block the layup."
(Lil Wayne – "This Is The Carter")

"Kobe doin' work, 2-4 on my shirt. He the greatest on the court, and I'm the greatest on the verse."
(Lil Wayne – "Kobe Bryant")
#3: Nelly
Nelly is easily the best athlete on this list. He played basketball, football, and baseball in high school. He even landed a Major League tryout with fellow St. Louis representer, Philadelphia Philly, Ryan Howard. Nelly is a huge St. Louis Cardinals and Rams fan (let's see if he follows them to L.A.). He's also a part-owner of the Charlotte Hornets so you'll see him at Hornets games on occasion. Nelly even once said when he wrote the song #1, he imagined Tracy McGrady listening to that song before games. Nelly is a multiple-time guest on ESPN First Take as well and engages with Skip Bayless and Stephen A. Smith better than everyone on this list except maybe one MC, hmmm.
Nelly Barz:
"The Rams won the Super Bowl; I bought myself a ring. Whether you sparkle or you bling, don't matter, same thing."
(Nelly – "Oh Nelly")
"Arriving herre around six in a six, with a throwback Sixers, number six, Julius Erv."
(Nelly – "Roc The Mic Remix")

#2: Wale
This is where the list gets REAL. Wale is the first artist that has a clear gap between he and the rest of this list. He's a multiple time guest on ESPN's First Take, often being crowned Hip Hop's sneaker king; Wale doesn't just wear sneakers, he KNOWS sneakers. He's a frequent attendee of NBA games in cities outside of (LA, NY, MIA, and where LeBron plays). He went to a Cavs game once while LeBron had his talents in South Beach.The MMG artist also has some of the most sports references in his lyrics ever, and he probably has more "sports barz" than anyone on this list. Wale is also the Creative Liason for his hometown Washington Wizards, assisting in designs for team merchandise and other promotional material. Wale is a die-hard fan of the Wizards, Nationals and the Washington Redskins. Wale has a chain of the Redskins logo to prove it. He'll throw a jersey on to complete an outfit like its 2003 too. Still not convinced he deserves this spot? It's one thing to be on ESPN First Take, but Wale composed the THEME SONG for ESPN First Take…. TWICE! He is the living and current Rap King of sports, and that, my friends, is non-debatable.
Wale Barz:
"I'm Durant at the Rucker; your woman's a perfect jumper. Wetter than a swish, and I never miss." (Wale on Curren$y's "What It Look Like")
"I'm limitless mentally; I'm lyrically ZMT. LeBron sh*t, I was in a 6 after 23." (Wale on "Ambition")

#1: Phife Dawg
Phife was wearing jerseys on the regular before Jay Z and Fabolous were heard of. The original master of sports barz. Frequent guest on the Scott Van Pelt radio show where he'd always talk sports and Hip-Hop, and he appeared on ESPN's Highly Questionable. Phife Dawg is not the first rapper to reference athletes in his lyrics, but he's the first one that did it the best. He mentioned something sports related in many of his interviews. The 5-Foot Assassain even recruited basketball players for an all-boys school in Connecticut. The foundation laid by Phife Dawg allowed Hip-Hop to have the lane it has in sports. He has lines about Scott Skiles, Mugsy Bogues, John Starks, and even Vinny Testaverde. When he was alive, you could ask him "who are your Top 5 Quarterbacks of all time?" And he'd give you an answer rather quickly. Wale is the current sports king, but in the sports world, Phife Diggy was Wale before Wale. Rest in peace Phife Dawg; A Tribe Called Quest forever.
Phife Dawg Barz:
"Bo knows this, and Bo knows that. But Bo don't know jack, 'cause Bo can't rap."
(Phife Dawg on A Tribe Called Quest's "Scenario")

"Sit back and learn, come now, watch the birdie. Your styles are incomplete, same as Vinny Testaverde."
(Phife Dawg on A Tribe Called Quest's "The Chase Pt. II")

Bonus: Scott Van Pelt's "One Big Thing" tribute to Phife after he passed away in March. Rest In Peace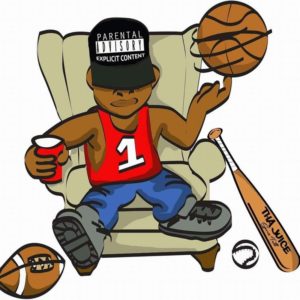 Article by Tha Juice Sports Talk, the one stop shop for latest sports news, commentary and open debate.