Silverscreens & Drum Machines: An Ageless Tale of Narration
Growing Up Hip Hop…
Music is to movies what bread is to sandwiches (BARS!). It's no wonder why recent films like Straight Out of Compton, DOPE, and the soon to be released "KICKS" have garnered appraisal not only through visual storytelling but their ear gripping soundtracks. Hip Hop instrumentals normally carry a swagger of grit and raw authenticity that provides soul to the characters hardship — or power to their achievement.
What better way to use the hard hitting bass and snare's in Hip Hop music than to apply it to coming of age tales depicting the harshness of life's struggles.
Let's Sound Off…
FRESH (1994)
Featured Hit: Raekwon – "Heaven & Hell"
Being the man of the house isn't easy, especially when your father's a homeless chess player, your sister dates the biggest coke dealer in the neighborhood. You're only a 12 year old drug dealer trying to make it out, it's a lot work just to try and stay fresh (see what I did there).
A dope boy coming of age tale but you can't have a New York classic without that classic New York sound.  Wu Tang Clan, Whodini, and The Cold Crush Brothers as the backdrop its not hard to root for the young  heroin to find his way out.
Baby Boy (2001)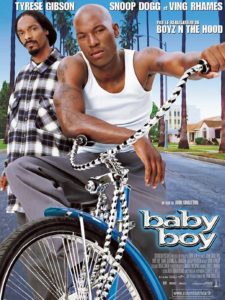 Lead Sound: Tyrese ft. Snoop Dogg & Mr. Tan – "Baby Boy"
Director John Singleton is no stranger to the world of Hip Hop or including it in his films. Singleton's 2001 film not only brought us the debut of Taraji P. Henson  and Tyrese but a banging soundtrack. The Baby Boy soundtrack went on to be #12 on Billboards Top R&B/Hip-Hop Albums with featured artist Snoop Dogg, Raphael Saadiq, Three 6 Mafia, D'Angelo, and Tyrese
Paper Soldiers (2002)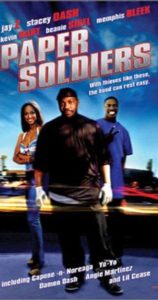 The Roc-a-Fella era brought many things to the culture while crafting a star studded roster including Kanye West, Just Blaze, Dj Clue, Beanie Siegel and some guy named Jay Z. They didn't stop with music.
Dame Dash went on to produce a multitude of films such as, Paid In Full, State Property 1 & 2, and the feature film debut of Kevin Hart, Paper Soliders. There was no theatrical release of Paper Soliders and Youtube was yet to be a thing .The only way to watch this film about a rookie thief (Kevin Hart) trying to land his big score was if your cousin knew someone with a dvd and brings it over — or Blockbuster ( what's that?).
Hustle & Flow (2005)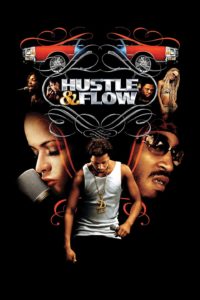 Featured Hit: Terrance Howard – "Whoop Dat Trick"
It's hard out here for a pimp— until your Fox TV series pays your rent. Before playing the ruthless music mogul Luscious Lion, Terrance Howard graced the silver screen as a southern pimp in search of a career change and a reason to hope again. Hustle & Flow was monumental for hip hop during award season when Three 6 Mafia took home the Academy Award for Best Original Song.
Sidenote: John Singleton produce this film re-teaming with Taraji P Henson and Three 6 Mafia from their collab on Baby Boy. Its all about teamwork folks
 The Wackness (2008)
Featured Hit: A Tribe Called Quest – "Can I Kick It"
New York City circa 1994, social outcast Luke Shapiro, searches  to not only make sense of the  world but make a few dollars peddling weed out of an ice cream cart— the sticky isn't the wackness. Anything but the wackness.
The golden tunes of  A Tribe Called Quest, Nas and Craig Mack serenades Luke's adventures through The Big Apple. Method Man makes an appearance as an artist that turns the young dealer on to a new up and coming group, Wu Tang Clan.
Let me guess.. Why isn't MY favorite film on here?
This is just a short list to name a few since to actually make a longer list would require a majority vote from congress and they have their own drama to worry about (they still can't agree with each other)
Not wanting to ruffle any feathers here are some Honorable Mentions: Killa Season, 8 Mile, Paid In Full, Belly, Breakin 1 & 2, and The Friday (Trilogy). If your film didn't make it feel free to drop the title in the comment box. Until next time, (Insert Catchphrase).