When you're an artist who's as popular as Kendrick Lamar, every little thing you say can be taken out of context and twisted into something negative.
On Thursday (March 30th), Kendrick Lamar dropped his video for "Humble," a song that's been getting mixed reviews for its visuals and most definitely for its lyrics.
Many took to social media to praise the Compton rapper, while others straight slammed him and felt that the verse perpetuated misogynist themes.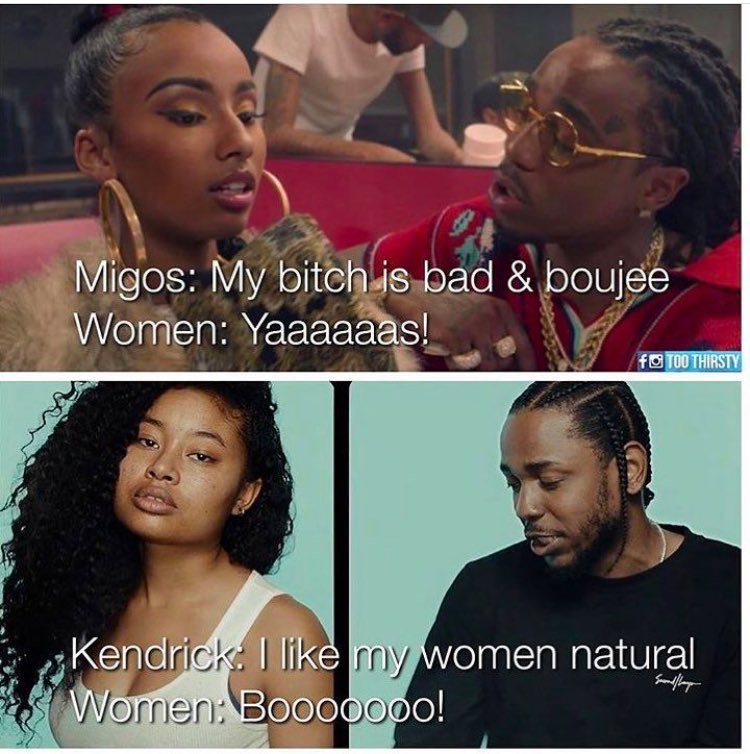 So why exactly is this causing such a big fuzz? Well, in one of his "Humble" verses K Dot raps to:
"I'm so fucken' sick and tired of the Photoshop. Show me somethin' natural like afro on Richard Pryor. Show me somethin' natural like ass with some stretch marks."
So here's where I come in. As a woman of color, a feminist, and someone who graduated with a Bachelor of Arts in Gender Women Studies and Journalism, I FUCK with the "Humble" visual and do not think he should be getting backlash from stating his preference for natural looks. He didn't say "women who wear makeup or edit photos are ugly." He said he wants to see more women embracing their naturalness, which he's entitled to say as everyone has preferences whether they voice them or not.
I also think many people are taking issue with the whole "it's a man telling a woman what she should look like" thing, but in reality, he's addressing our modern day media world and our culture that tells women what is and what is not sexy.
Given the captivating visuals used in the video for "Humble," it will be interesting to see how the song fits into the larger narrative of his fourth studio album, which is expected to drop on April 7th.
What do you think? Let us know in the comments below. – Lupe Looove