Recap: Missy Elliott, A Tribe Called Quest & Frank Ocean Shut Down FYF Fest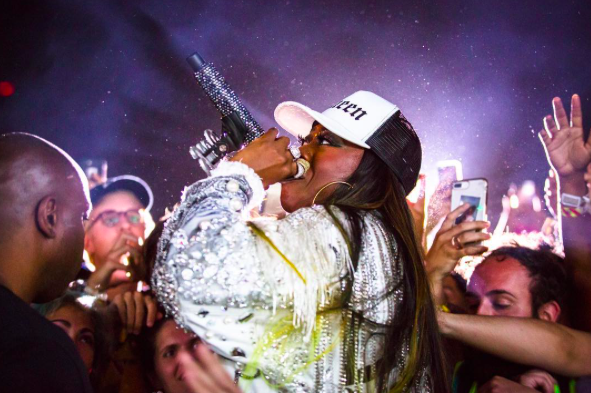 The 14th annual FYF Fest at Exposition Park was a turning point for many hip hop legends.
Missy Elliot performed for her first time in the states in 10 years on Friday (July 21st) to a crowd of fans—including Tyler the Creator, who was spotted near the stage bouncing along to Missy's classic jams, Beyoncé, Solange and Katy Perry. After a quick montage of Missy's smash hits and a cheering crowd, Missy approached the stage wearing a baseball hat with the word, "Queen" appropriately written on it and a bedazzled microphone with her initials on it.
Her high-energy performance consisted of songs like, "Pass That Dutch," "I'm Really Hot," "Work It," "Lose Control," "All N My Grill," "We Run This," "Ching-A-Ling," "The Rain," "Get Your Freak On," and "WTF (Where They From)." She introduced all of her dancers, who at one point danced on giant work-out balls, and reminisced on the hardship that went into creating her music videos, including many takes and at times asthma attacks from her dancers. Despite being sick with a cold and losing her mic patch during the performance, Missy kept it moving as she stepped into the aisle between the crowds on the main stage and touched hands with fans, claiming she hated feeling disconnected from them. Her performance closed beautifully with a tribute to Aaliyah as everyone swayed to "Rock the Boat."
Day 2 of #FYFFest is underway & this was last night as @MissyElliott performed "WTF (Where They From)." 📸: @AshleySitaSays pic.twitter.com/pXRLTxWpsj

— Home Grown Radio ™ (@HomeGrownRadio) July 22, 2017
Anderson .Paak and the Free Nationals didn't disappoint as they kicked off their show with an upbeat performance of "Come Down."Paak gave a shout out to his mom and the mothers in everyone's lives as he flowed to "The Season / Carry Me"—a song which he said he dedicated to his mother—while playing the drums. Guitarist Jose Rios spoke to the crowd briefly to give "besitos to the ladies," and later tweeted that this was his first time performing in Los Angeles in a year and he had butterflies… we couldn't tell! The show continued with "Heart Don't Stand a Chance" and "Wait."
Canadian R&B duo Majid Jordan performed smooth beats, soothing lyrics and stunning visual backgrounds with songs "Her," and "Gave Your Love Away."
On Saturday evening (July 22nd), legendary hip hop group, A Tribe Called Quest graced the Main Stage of FYF with a plethora of hits and an announcement that ended an era. Following the loss of member and childhood friend Phife Dawg—which occurred in March 2016—rapper Q-Tip told a crowd of fans, some of whom had been rocking with the group since '85 and some of whom weren't even born at that time yet, that the show was their last performance in Los Angeles.
"It's like one of those 12-inch records that play for 15 minutes too long, sometimes. It's like an extended mix and dealing with the waves and the ups and downs… when you lose somebody it hits you in waves. You feel like you get by it and then something comes up and you never really do… this experience being here with ya'll is cathartic, it helps. And we, I, thank you," Q-Tip said before playing Phife Dawg's favorite song, "Butter."
The group, which consisted of Jarobi White, Q-Tip, Ali Shaheed Muhammad and Consequence, performed "Electric Relaxation," "Mobius," "Excursions," "Buggin' Out," "Bonita Applebum," and "Whateva Will Be" off their 2016 album. From Q-Tip's beat boxing to their acapella version of "Find A Way," it didn't seem the performance could get any better. Until the group re-emerged on stage for an encore of "Can I Kick It," "Award Tour" and "We The People," to perfectly close the curtain on an inspiring, bittersweet performance.
The stage was transformed into a movie set as Frank Ocean took over after ATCQ on Saturday night. Frank Ocean crouched on top of his sparkly, multicolored Converse All Stars in front of a keyboard on the ground. He went into a cover of The Carpenters' "(They Long to Be) Close to You" mixed with Jackson 5's "Never Can Say Goodbye," and the audience was stunned to see everyone's celebrity crush Brad Pitt doing a cameo performance talking on the phone on stage and on the projected screen while director Spike Jonze filmed it.
Ocean played a mix of songs from his Blond album–including "Solo," "Self Control," "Nights," and "Ivy," and his channel ORANGE album with "Thinkin Bout You" and "Sweet Life." The crowd was happy to hear one of his latest singles, "Lens," as well. Frank's perfectly orchestrated performance definitely took the crowd at the Main Stage down a few notches on night two of FYF, but his raw talent and dynamic set reminded us why he, his albums, and his performances are always worth the wait.
The festival wound down to an end on Sunday night (July 23rd) with Oakland-artist Kehlani's set at the Trees Stage that really gave meaning to the phrase, "save the best for last." Dressed in an orange t-shirt that said "Love," with thigh high black boots, Kehlani showed the audience what it means to feel sexy in your own skin and to have fun. She performed her latest song "Faking It," a collaboration with Calvin Harris, for the first time without skipping a beat. She was accompanied by two dancers, Ray "Quasi" Nelson on the drums and DJ Noodles, while the crew performed songs off of her Sweet Sexy Savage and You Should Be Here albums.
For her day one fans, she performed "Get Away" off her 2014 Cloud 19 mixtape. The 22-year-old dedicated her song "Undercover" to the LGBTQ community as she twirled and kissed an orange flower and threw it into the crowd. Her dance moves and lyrics mesmerized the crowd until she vanished from the stage—after quickly thanking the audience—as quickly as she appeared. – Ashley Ruiz